CDC National Healthy Homes and Lead Poisoning Prevention Training Center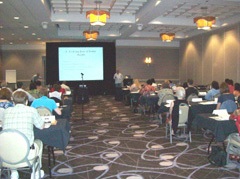 The Centers for Disease Control and Prevention's (CDC) annual National Healthy Homes and Lead Poisoning Prevention Training Center, now known as the CDC Lead Poisoning Prevention Training Center, is a multiday training to provide expert, practical training to program managers, epidemiologists, case managers, environmental investigators, and other environmental health professionals in state and local childhood lead poisoning prevention programs. Representatives of housing departments and community development corporations participated to facilitate communication between the housing and health sectors on lead poisoning. CDC funds this training to build program capacity for childhood lead poisoning prevention services, including medical and environmental case management, primary prevention, and surveillance.
The 24 sessions of the Lead Poisoning Prevention Training Center managed by Healthy Housing Solutions from 2005 to 2019 were attended by 1,515 students. CDC contracted directly with Solutions from September 2004 through September 2016 for these services under its mission support contract. In FY 2017, CDC issued the contract to Karna, LLC, and in 2019, to Deloitte, LLC. Solutions served as both organizations' subcontractor to design the curriculum, manage the logistics, deliver the training, and provide an evaluation. CDC's reliance on Solutions for the training reflects its trust and recognition of our firm's subject matter expertise, experience in training curriculum development, and management of training programs.
Programmatic trainings last 3.5 days, including seven general session presentations by nationally recognized subject matter experts and three separate training tracks facilitated by faculty members who are leaders in their respective fields. For each training session, Solutions develops the learning objectives and PowerPoint presentations for seven 90-minute general sessions and three separate training tracks, each with six topic modules and accompanying exercises. Solutions recruits subject matter experts to serve as presenters and track faculty members for these multiday trainings. Project team members serve as session moderators, speakers for several general sessions, and training track faculty.
Solutions also develops pre- and post-tests and student evaluations to assess the effectiveness and benefits to the students from the training. It secures continuing education credits (CEUs) through the Ohio Nurses Association and the National Environmental Health Association.
For more information about this training, contact us..